PE
At Hartsfield School, we believe enjoyment is key to all physical activity which enables our pupils to lead healthy, active lives. School sport inspires pupils to work as a team and individually to be competitive against themselves and others through a wide range of opportunities.
PE teaching at Hartsfield covers the PE National Curriculum 2014. The school has two halls, one of which is equipped with climbing frames, ropes, agi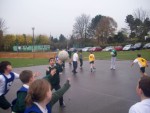 lity apparatus and small equipment suitable for gymnastics activities. Our second hall is larger and an excellent space for dance, indoor games activities and Sports Hall Athletics. We also have extensive games equipment for our large field and playground areas. PE at Hartsfield is taught through a balanced programme of gymnastics, dance, games, athletics, swimming and outdoor and adventurous activities.
Please see information regarding our Sport Premium allocation and expenditure under the Statutory Information tab.